You are Sensitive You are Free You are Powerful You are Perfect
You just don't know it yet.
And the reasons you don't know it yet are:

Nobody told you when you were a kid
They didn't try to hide it from you, but they had no idea.
They thought that your sensitivity was just some dysfunction they had to deal with, even though probably someone in your family was also a sensitive.

They bullied and abused you
Especially in school and in the neighborhood where the other children couldn't understand you and either felt threatened by you or saw you as easy target since you were different.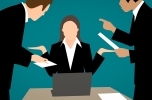 Your ideas are not easily accepted
You are full of ideas and inspiration not easily accepted by other people. Although you are the boss you have to struggle to make them understand what you mean.

Your own emotions often confuse you
When I tell you that you have a superpower you are wondering why this superpower makes you feel strange, isolated, and often sad. This is because you didn't learn how to deal with it………yet.
Why being sensitive is a problem?
Many sensitive people are struggling with every day life, with emotions they cannot control, with physical stimuli that seem to be beyond their ability to cope. Ever since they remember themselves they hear people saying "you're too sensitive".
So it is natural to have the belief that they are full of issues and not worthy, and all those ideas that naturally come to their mind are being judged as wishful thinking of a dreamer.
The truth is that these "dreams" are really valuable insights and ideas that can profoundly help the world to progress.
Sensitives are the ones who open the doors to more possibilities, who break the rules that are not offering anything anymore, who push the limits and make the areas of knowledge, art, science and spirituality wider and richer. They have the complete picture and the final result in mind. So they can see as already done whatever others think it's impossible.
So if you have in mind wonderful possibilities, while everyone else tries to convince you that they are not possible, let me help you uncover all your abilities and your strengths.


Don't be afraid to be sensitive
Because being what you are is the absolute freedom!

Don't listen to the people who don't understand your sensitivity
There is a reason for being sensitive.

This is your nature, not your dysfunction!
How can someone's nature be wrong?

Isn't it time to be yourself and celebrate it?
Isn't it time to feel good just the way you are?
You may think "easy to say it" but I can really help you here
There are many stories about Sensitive People in all fields of human experience, art, science, business, people who changed the way of the world, people who made the impossible possible.
Because this is what we are!
Many famous sensitives left their footprint on our earth
The big difference between you and them?


Either they never thought Sensitivity as a problem
Some people are natural. Sensitive or not they are like the fish in the water. All the things we hear about HSPs being hypersensitive, suffering or trying to survive in a hostile environment, never crossed their mind.

Or they had support from their environment
Even if they started as "too sensitive" or full of doubts and fears, the family, mainly, made them feel comfortable with their existence and their sensitivity.

Or they listened to their calling and found the support they needed
Some were neither born ready nor had support from the family. I guess this is your case. Some of them thought that being sensitive is a mission and found help, therapy, coaching or just friends to support them.
What can coaching
do for you?
Knowing Sensitivity first hand I know the way to bring you,
from where you are now to where you deserve to be,
in four proved steps


Discover yourself
Explore your sensitivity and all its characteristics. Discover all the emotions, thoughts and sensations that come or being amplified because of your sensitivity and get familiar with them.

Feel good with your sensitivity
Accept all the things you discovered in the first process, even though up to now they made you very angry or insecure. Acceptance of your nature makes you free!

Find your Superpowers
When you feel good with yourself and your sensitivity you will find out that behind the sensitivity that made you feel weak and vulnerable, there is amazing power.

Live, Thrive, Lead
Now that you are familiar with your special powers, you are ready to be what you really are. Someone who feel how to be successful, someone who tries new things, maybe someone who can lead and even make the world a better place.
Are you ready to find your superpower and make your life amazing?
You can use the calendar to schedule a 45-minute free consultation to find out what is the best for you.