You are Sensitive You are Free You are Powerful You are Perfect
You just don't know it yet.
And the reasons you don't know it yet are:

Nobody told you when you were a kid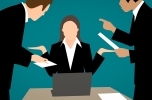 Your ideas are not easily accepted

They bullied and abused you

Your own emotions often confuse you
Why being Sensitive
is a Problem?

well... it isn't!
Just because they made you believe that you are too sensitive, doesn't mean it's true!
Your sensitivity is natural, normal,
it's your nature.

Don't be afraid to be sensitive
Because being what you are is the absolute freedom!

This is your nature, not your dysfunction!
How can someone's nature be wrong?

Don't listen to the people who don't understand your sensitivity
There is a reason for being sensitive.

Isn't it time to be yourself and celebrate it?
Isn't it time to feel good just the way you are?
Do you think all the famous successful sensitives
were born ready?

A few never considered Sensitivity as a problem
Some people are natural. Sensitive or not they are like the fish in the water. All the things we hear about HSPs being hypersensitive, suffering or trying to survive in a hostile environment, never crossed their mind.

Some had support from their environment
Even if they started as "too sensitive" or full of doubts and fears, the family, mainly, made them feel comfortable with their existence and their sensitivity.

Most of them though listened to their calling and found the support they needed
Most were neither born ready nor had understanding from the family. I guess this is your case. Some of them thought that being sensitive is a mission and found help, therapy, coaching or just friends to support them.
But I am here to help you!
Knowing Sensitivity Firsthand
I know the way to bring you,
from where you are now
to where you deserve to be.

WHY IT IS DIFFERENT
WORKING WITH ME?
Unlike many coaches or therapists,
I will never, under any circumstances,
consider your sensitivity as a dysfunction
and I can prove that any time.


I know all the inner processes
moving from "I am a problem"
to "I am perfect"
because this is also my own story.



I know that your sensitivity is a superpower
Are you ready to find your superpower and make your life amazing?
You can use this calendar to schedule a 45-minute free consultation to find out what is the best for you.

Change the language and the view settings to find the perfect from the available slots!
Tuesday, Wednesday and Thursday are the days I work with my clients.
Monday and Friday are days I contact with potential new clients
If Monday or Friday are not good for you just contact me to find one together.